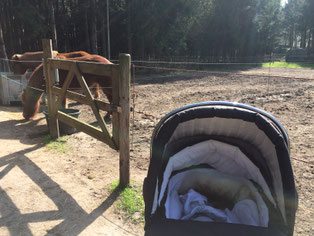 2017 was a year full of changes, new experiences and full of ideas.
In March our son was born. And of course our first walks went to the stables. His favorite napping place was next to the horses. An amazing time that we enjoyed a lot.
He also got to travel to France and Austria in his first months as I was invited again to teach weekend courses at Ecurie de la Colline Vivante and Islandpferdehof Schönleiten.
After starting again to train my horses I had to find out that it wasn't just my horses that needed training… 😊
But of course that didn't stop me from having some fun with Eldbrá to compete in the pace test PP1. While her pace quality just got better and better our timing has to improve a bit.
While it is really much fun to work with her I decided to give her a new task this year. She will go into breeding and hopefully give her great character and gaits to her offspring.
So that gives me the possibility to dedicate more time to our youngsters which are waiting to be trained.
We imported our remaining horses from Iceland, Reykás frá Litla-Garði a half brother to Eldbrá and Fífa frá Litla-Garði a promising young daughter from Kiljan frá Árgerði.
Those horses prove again the great breeding line of Stefán Birgir Stefánsson and Herdís Ármannsdóttir in  Litli-Garður/ Árgerði. If you are searching for horses with great characters, good gaits and mostly quite tall you have the perfect go to address with them. As a plus they also offer the possibility of renting a flat and spend your vacation at this beautiful part of Iceland.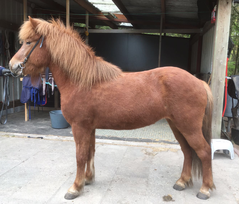 As we can not keep all horses we found a new home for Voga frá Rínarfjalli. With the help of Lisa Grau from the farm Falkenegg in Germany, Voga found a great new family. We wish them all the best.
An other great experience was to go to the World Championships of the Icelandic horse. To see so much great horses and riders. Learn, see and think about the way of showing horses in competition was giving a lot of impulse to just go home and keep on training immediately.
So now I'm looking forward to what 2018 is bringing me.